Pulmic PM-3 Red Duster

NEW, OLD STOCK - 1 UNIT LEFT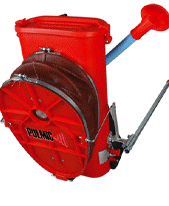 A great knapsack bellows with a powerful air displacement. Adjustable duster output and agitator incorporated. Polyethylene tank. Capacity: 12 kg. powder (26 lbs.), waterproof cover. Left-handed lever. Adjustable strap. Individually packed. Size: 51 x 38 x 20 cm (20" x 15" x 8") Weight: 4.3 kg. (9.4 lbs.)
Price: $200.00
Montana Backpack - NOT CURRENTLY AVAILABLE IN THE USA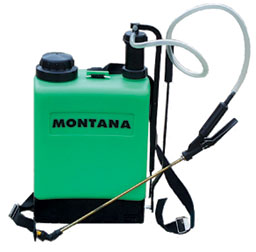 4 gal economic choice, simple, durable, quality sprayer for home or garden.

A new sprayer designed for durability and simplicity of operation. This economically priced 4 gallon backpack will provide years of use for the professional grower or the home gardener who appreciates quality but does not need the feature of our Berthoud line.
Price: Email For Price
Berthoud C-18 Work Horse - NOT CURRENTLY AVAILABLE IN THE USA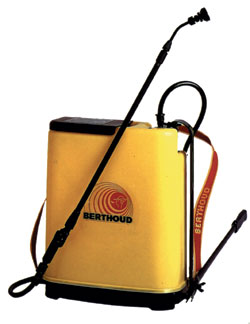 For Large Gardens, Orchards and Vineyards.
Liquid Capacity: 18 liters (4.75 US G). It's total capacity makes it the top choice for semi-professional use. Comfortable to operate. easy filling: large opening (133 cm2--20.6 sq. in.). Comfortable body shaped cushion pad follows smooth contoured-line of the polypropylene tank. A proof lid incorporating a built-in venting valve prevents accidental spillage when the operator bends forward. Plastic straps, high resistant fast fixation. Smooth pumping at a normal working pressure (3 bars or 45 psi) the effort required is 50% of most other sprayers. The large grip pumping lever can be fitted to either side of the sprayer. Lever can be adjusted: High pressure insecticide/fungicide treatment and low pressure herbicide. Spray gun for continuous or intermittent spraying is fitted with a large line filter. Adjustable nozzle.
Size: 45 x 18 x 49 cm (17.5" x 7" x 19") Weight: 4.9 kg. (10.80 lbs.)
Price: Email For Price
VHP 2000 Berthoud Knapsack - NOT CURRENTLY AVAILABLE IN THE USA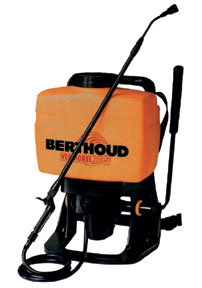 For Professional and Semi-Professional Use
Type: Continuous action.
Capacity: 16 liters/4 US gallons.
Working Pressure: 0 to 75 psi.
Pump: Diaphragm with curved piston.
Volumetric displacement: 2,450 cu. ft.
Integrated pressure Regulator: 0 to 75 psi.
Central Position.
Compression Tank: Capacity 39 gallons.
Weight: 11 lbs.
Applications:
Professional and semi-professional use. For orchards, vineyards and large gardens. Treatments (insecticides/fungicides). Herbicides. Watering.
Product Advantages:
Performance: Quick pressure gain. good retention of pressure. Comfortable application. Comfortable carriage. Lever with low clearance. easy pumping. Easy maintenance. Easily dismountable. Easy total draining of tank. Absence of wearable parts inside the pump.
Price: Email For Price