MAXAIR 240, 360, 484 Series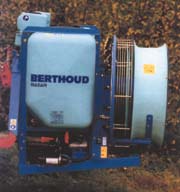 Offers: Efficiency, Versatility, Consistency & Maximum Features!

50, 80 and 110 gallon tanks: High density polyethylene. Large diameter filling hole. A separate safety hand wash-tank is supplies as standard (a rinsing tank is optional).

Helicoidal fans made of compound material: 16"-240, 24"-360 and 34"-484 (corrosion resistant fiberglass fan cowl on Maxair 484). Air diffusers and fan dome made of compound material to ensure streamlined air flow.

2 Pumps: Standard-APS 51:3 piston-diaphragm pump (13 gpm, 291 psi). Regulator made of comopund material (main and section valves). Optional--Gamma 82:3 piston pump (output 801/22 gpm, 580 psi). Brass regulator and section valves.

Chassis: Backward tilted for linkage facility protected by UHR paint. Different heights of Cat 1 hitch on Maxair with APS 51 pump.

Protected nozzle holders and nozzles arranged on a stainless steel boom on Maxair 484, without any disturbance of the airstream, the performance and the air dispersion. Standard Torex nozzles. Optional Biflo Nozzles.
Price: Email For Price
Arbo ZX Series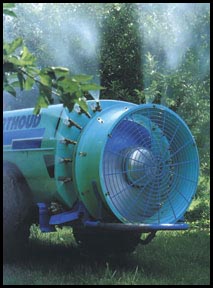 TOP PERFORMANCE AT A MODERATE PRICE!
If you need the power and convenience of a large trailer sprayer, in a unit that matches your tractor; a tank size that fits your orchard, and aprice that doesn't break your budget, the Arbo ZX is your sprayer.

With three models to choose from, there's a ZX that is sized right for you. And they are all available at surprising low prices.

As the world's largest manufacturer of air blast sprayers, we know that even the best sprayer will never work for you it it's sized wrong for your operation. We designed the Arbo ZX series specifically to meet your needs as a medium-sized or smaller grower. These are ideal sprayers for crops such as almonds, apples, blueberries, grapes, peaches or nursey stock.
Price: Email For Price
Arbo AX Series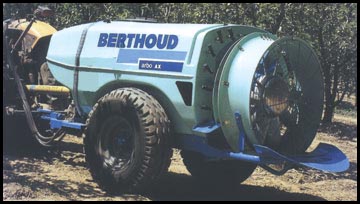 Powerful--10 Blade, 34" Axial Flow Fan. EFFICIENT--requires low horse power, yet produces excellent penetration, uniform spray pattern and low noise.

Versatile--Direct Drive, 2-Speed Gear box to match tree size. Neutral position for high pressure gun spraying.

Accurate--Hig pressure 3 piston pump. Not only is this pump designed to out last other sprayer pumps, but is accurate even at very low or very high application rates.

Compact--Streamlined design, with low profile fiberglass tank and "molded-in" tire wells. Eliminates tree limb damage in close plantings.

Options--Constant velocity PTO shaft for turning in tight corners. Tall tree, nursery, and row crop deflectors. Hand gun. Flip over nozzles. Wearless sapphire tips. Electric controls--standard on AX.

10-Blade, 34" Axial Fan, Cast Alpax / 2-Speed Gear Box with Neutral / Gama 82, 21 GPM 570 PSI / High Pressure Brass Controls / Mechanical Propeller-Type Agitator Wearless Sapphire Tips all Fiberglass Fan Shroud Crop Deflectors Grape tower Hand Gun / High Pressure Reinforced Hoses.
Price: Email For Price