MAXAIR 240, 360, 484 Series - CURRENTLY NOT AVAILABLE IN THE US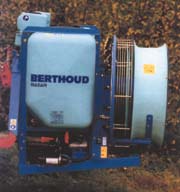 Offers: Efficiency, Versatility, Consistency & Maximum Features!

50, 80 and 110 gallon tanks: High density polyethylene. Large diameter filling hole. A separate safety hand wash-tank is supplies as standard (a rinsing tank is optional).

Helicoidal fans made of compound material: 16"-240, 24"-360 and 34"-484 (corrosion resistant fiberglass fan cowl on Maxair 484). Air diffusers and fan dome made of compound material to ensure streamlined air flow.

2 Pumps: Standard-APS 51:3 piston-diaphragm pump (13 gpm, 291 psi). Regulator made of comopund material (main and section valves). Optional--Gamma 82:3 piston pump (output 801/22 gpm, 580 psi). Brass regulator and section valves.

Chassis: Backward tilted for linkage facility protected by UHR paint. Different heights of Cat 1 hitch on Maxair with APS 51 pump.

Protected nozzle holders and nozzles arranged on a stainless steel boom on Maxair 484, without any disturbance of the airstream, the performance and the air dispersion. Standard Torex nozzles. Optional Biflo Nozzles.
Price: Email For Price