Digital pH Stick Kit

Available by special order, price subject to change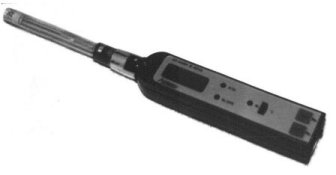 The Model 612K digital pH stick kit provides simple, one-hand measurement of pH from 0.00 to 14.00 with a readability of 0.01 pH. It is ideal for use in the field, plant and lab. The integral electrode mounts directly to the pH meter (no connecting cable is required). Calibrate your meter using the front panel slope, standardize and temperature controls. The easy-to-read 5/16" LCD display locks in the pH reading when the hold button is depressed. Price includes meter, 12A36-A epoxy-bodied general purpose electrode, battery, buffers (4 and 7 pH), rugged foam-lined carrying case and manual.
Price: $179.00
Jenco Model 609 Kit

Available by special order, price subject to change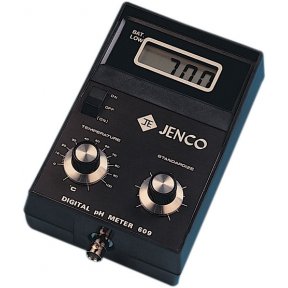 This is the same meter as the Kernco 25-30 which is no longer available as Kernco is out of business.
Jenco is the original manufacturer

pH handheld meter with LCD digital display and manual temperature compensation. pH calibration is via knobs and pH slope calibration potentiometer. Meter has voltage recorder output and BNC connector. AC/DC Powered.

Range 0 to 14.00 pH
Resolution 0.01pH
Accuracy 0.01 pH ± 1 digit

Comes with carrying case & buffer solutions
Price: $224.00
Jenco 612E Replacement Electrode for Jenco 612 Stick PH Meter

Available by special order, price subject to change
Electrode
for Jenco 612 PH Meter
Price: $70.00
Jenco 600P Replacement Electrode for Jenco 609 & Kernco 25-30 PH meter

Available by special order, price subject to change
Electrode
for Kernco Model 25-30 and Jenco 609 PH Meters
Price: $90.00