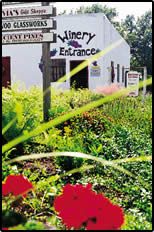 Baxter's Vineyards/Winery
Brenda and Kelly Logan
2210 E. Parley Street
Nauvoo, IL 62354
(217) 453-2528 / (800) 854-1396
Fax (217) 453-6600
baxters@nauvoo.net
www.nauvoowinery.com

Baxter's Winery, the oldest winery in Illinois, is family-owned and operated. Established in 1885, Baxter's Winery is located in historic Nauvoo and offers complementary wine tasting, gift baskets and gift boxes, tours, handcrafted gifts made by area craftsmen and specialty foods, including Carol's homemade pies and sweet breads and Nauvoo Blue Cheese.

Hours
Mon-Sat: 9-5
Sun: 10-5

Directions
Located 11 blocks east of Highway 96 going thru Nauvoo State Park on Parley Street or 4 blocks south of Caseys on Highway 96 to the T, turn left or go east on Parley Street approximately 3 blocks.